Patient Warming Systems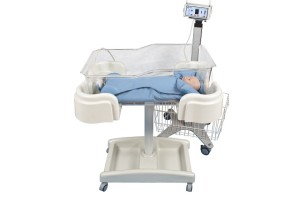 Our Patient Warming Systems have been manufactured as a result of long studies using the latest technology to eliminate the risk of hypothermia in operating rooms,  post-op and intensive care units or to quickly increase the peripheral temperature of patients who enter hypothermia.
Considering some variables such as  the patient's condition, the surgery type and clinical needs, we have developed different sizes of blanket and pad models for neonates, pediatric and adult patients.
The system consists of two main parts: first being the control unit and the second mattress/blanket.
1-Control Unit
 Easy to use.
 It can show the set value and measured temperature at the same time.
 It has an advanced alarm system.
 It has 0.1 0C temperature accuracy.
 It provides safe usage through the key lock function.
 It is not effected from devices like cauteries through its effective electrical filtering system.
 Suitable for various mounting positions through its' accessories.
2-Mattress/Blanket Unit
Impermeable polyurethane cover
Carbon fiber heating layer
Silicon fiber for heating isolation
Viscoelastic foam rubber.
Impermeable polyurethane fabric
Patient Warming System Specifications
SAFE WARMING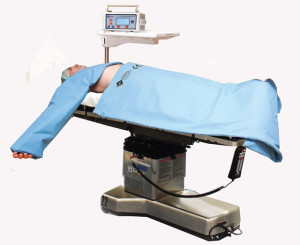 In our products, special fabrics are used as a warming element  produced with carbon fiber technology. As the fabrics are produced with high technology in very high temperatures, they are non-flammable so they don't create any risk of fire.
There is no risk of electric shock since the pad and blankets are warmed with low voltage (12-24V).
The excessive increase in temperature is prevented in all parts of the pad by sufficient security sensors which work independently from the main control sensor in the pads and blankets.
Warming process is not harmful to human health since it doesn't use an old technology such as wire resistance and doesn't generate electromagnetic waves.
When the temperature of a pad or blanket reaches 42 deg  C,high temperature alarm is activated and it cuts the warming process. If there is a problem with high temperature alarm, additional safety sensors are available inside the pad or blanket which stop the warming process.
High temperature alarm is activated if warming of pads or blankets exceeds the set temperature over 1,5 deg C. The measured temperature is not allowed to exceed the adjusted value through this alarm system.
HEALTHY WARMING
Our patient warming system that is produced with carbon fiber high technology emits far infrared rays like the sun's long wavelength rays which also have a positive effect on human health just like effects of the sun.
Far infrared wavelength rays penetrate directly into human cells in our body which resonate water molecules and help raise the peripheral temperature of the patient carrying the risk of hypothermia, effectively and in a short period of time.
FAST WARMING
Fabrics produced with carbon fiber technology provides emergency warming for patients in the operating room or intensive care unit in a short period of time such as  4-6 minutes (on average), thus eliminating the risk of hypothermia and  minimizing the waiting time of patients in post-operative rooms.
EASY CLEANING
Cleaning of air permeable and waterproof polyurethane used in exterior coating of the warming pads and blankets can easily be carried out  by wiping them. Disinfections of our products can also be carried out with any disinfectant which doesn't contain hypochlorite.
Impermeability has been the main concern during the  manufacturing  of coatings.
ECONOMICAL WARMING
Fabrics produced with high carbon fiber technology radiating far infrared wavelength, convert electrical energy into thermal energy to a great extent so that they are more economical compared to conventional infrared heaters.
Reusable warming pads and blankets don't need any disposable materials and supplies,  keeping costs at a minimum for the hospitals. (If required disposable pads and blanket covers are available against the risk of infection).
With the help of  silicon fiber used in pads and blankets  we prevent loss of  thermal energy for all insulation blankets which results in a complete focus on warming the patients. Accordingly, the system maintains the temperature at desired levels with energy consumption remaining at minimum.
COMFORTABLE WARMING
Through the viscoelastic foam rubber used inside the warming pads, we prevent  decubitus ulcers  which may occur on patients with prolonged stay on a mattress.
Size of the blankets and pads are designed to warm up the whole body of the patients who have various heights.
Soft and lightweight blankets can easily cover the patient and provide a comfortable warming experience.
HOMOGENOUS WARMING
By using carbon fiber fabric in pads and blankets, instead of resistance wire warming element, all surfaces of pads and blankets  are equally warmed. So the patient's peripheral temperature can be increased more effectively and safely.
ANTIBACTERIAL   AND  FIRE   PROOF   POLYURETHANE  FABRIC
Polyurethane which is considered as a healthy and non-toxic fabric is completely liquid-proof but also permits air flow. Some chemical processes are also applied to the fabric so it has additional specifications such as anti-bacterial and flame-repellent. Thus, the probability of multiplication of bacteria within the fabric is prevented.

Adult Warming System: Download Brochure

Neonatal Warming System: Download Brochure
 Link Manufacturer: http://www.istanbulmedical.com/