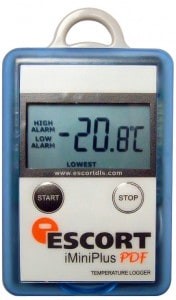 iMiniPlus PDF
The iMiniPlus PDF data logger is the ideal instrument for monitoring temperature-sensitive shipments to distant destinations where proprietary software is unavailable.
This data logger uses a USB mini B to USB type A cable* (supplied with PDF logger) or small USB adapter for computer communications. It is a true plug & play device. When the logger is connected, the computer automatically recognizes the logger as a Mass Storage Device, and the PDF report can be viewed with two other binary files. Please allow sufficient time for installation (5 to 30 seconds).
Every data logger is supplied with a simple USB to USB cable for PC connection and travels with the logger in the consignment. Report generation includes a summary of transport condition, time spent out of specification and trip statistics. In addition, the report provides date, time and temperature of all readings, plus a graph of the temperature of the trip. The PDF report can be validated by Console software by emailing the PDF report and binary files to the supplier, thus meeting the requirements for 21 CFR Part11.
Request a quote: info@sbmedica.com